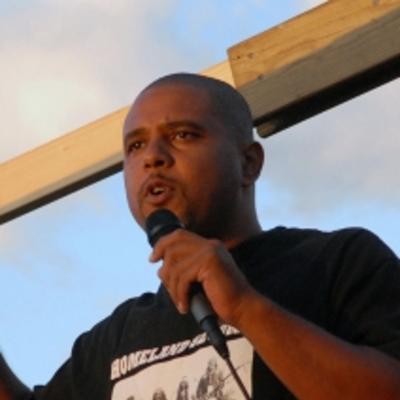 Max Rameau
Max Rameau is a Haitian born Pan-African theorist, campaign strategist, organizer and author.
After moving to Miami, Florida in 1991, Max began organizing around a broad range of human rights issues impacting low-income Black communities, including Immigrant rights (particularly Haitian immigrants), economic justice, LGBTQ rights, voting rights, particularly for ex-felons and police abuse, among others. As a result of the devastating impacts of gentrification taking root during the housing "boom," in the summer of 2006 Max helped found the organization which eventually became known as Take Back the Land, to address 'Land' issues in the Black community. In October 2006, Take Back the Land seized control of a vacant lot in the Liberty City section of Miami and built the Umoja Village, a full urban shantytown, addressing the issues of land, self-determination and homelessness in the Black community.
In October 2007, Take Back the Land initiated a bold campaign that sparked a national movement: "liberating" vacant government owned and foreclosed homes and moving homeless families into them. In addition, the organization began waging "eviction defenses" by physically blockading homes to prevent police from evicting families. The local organization inspired a national version, the Take Back the Land- Movement, a trans-local network of organizations engaged in land liberation and eviction defense in pursuit of the human right to housing and community control over land.
As important as the work of providing housing to families in need, one of Take Back the Land's central contributions to the movement is shifting the conversation from merely foreclosures and mortgage principle to community control over land, the human right to housing and employing the lense of race, gender and class.
In 2008, Max authored the book Take Back the Land, recounting the experiences and political theory behind the Umoja Village. The book has been used in several colleges and universities.
Max travels the country facilitating workshops, engaging in campaign strategy sessions and developing models for community control.
Max Rameau is currently working on his second book, to be published by AK Press.