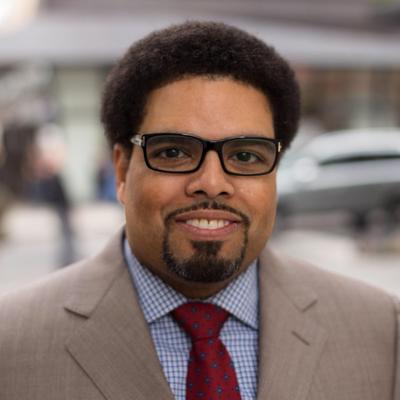 Darrick Hamilton
Darrick Hamilton is the executive director of the Kirwan Institute for the Study of Race and Ethnicity and an economics professor at Ohio State University's John Glenn College of Public Affairs. He is a stratification economist, whose work focuses on the causes, consequences, and remedies of racial and ethnic inequality in economic and health outcomes, which includes an examination of the intersection of identity, racism, colorism, and socioeconomic outcomes. His work involves crafting and implementing innovative routes and policies that break down social hierarchy, empower people, and move society towards greater equity, inclusion, and civic participation. He has authored numerous scholarly articles on socioeconomic stratification in education, marriage, wealth, homeownership, health (including mental health), and labor market outcomes.
He has previously served as director of the doctoral program in public and urban policy, and jointly appointed as an associate professor of economics and urban policy at The Milano School of International Affairs, Management and Urban Policy and the Department of Economics, The New School for Social Research at The New School in New York. 
He has also been a faculty research fellow at the Schwartz Center for Economic Policy Analysis at The New School, the president-elect of the National Economic Association (NEA), an associate director of the Diversity Initiative for Tenure in Economics Program, serving on the Board of Overseers for the General Social Survey (GSS), the National Science Foundation (NSF) funded Social Observatories Coordinating Network (SOCN), the National Academies of Sciences standing committee on Future of Major NSF-Funded Social Science Surveys, senior research associate at the Samuel DuBois Cook Center on Social Equity at Duke University, and co-principal investigator of the National Asset Scorecard in Communities of Color Project (NASCC).
He has written many articles/opinion-editorials, which include the translation of his research findings from academic journals to popular press publication, examples include the Atlanta Journal Constitution, The American Prospect, the Christian Science Monitor, Dissent Magazine, The New York Times, The Huffington Post and the Washington Post. He has been cited quoted and has made many media appearances to debate social topics, discuss my research and offer insights on social policy in print and broadcast media outlets.   Finally, he has provided consultation to numerous government and not-for-profit organizations including AFL-CIO, American Human Development Project, Center for American Progress, Black Equity Alliance, CFED, Center for Social Development, Congressional Black Caucus, Council of Economic Advisors-The White House, Demos, Economic Policy Institute, Empire State Coalition of Youth and Family Services, Board of Governors of the Federal Reserve System, Federal Reserve Bank of Boston, Federal Reserve Bank of New York, Food Bank of New York City, Insight: Center for Community and Economic Development, Joint Center for Political and Economic Studies, National Urban League, PolicyLink, SEIU, and U.S. Office of Equal Employment Opportunity Commission.